The Project
"Soul" is a project to prevent suicide.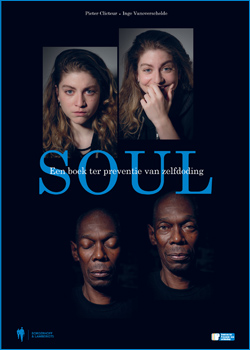 In December 2016, the book "Soul" was published, containing portraits of 40 famous people who supported this cause and helped us - the authors of the book - to shift the attention to the prevention of suicide.
The project is extended on this website. In analogy with the book, several famous people are photographed 2 times: once in a positive emotion, once in a negative emotion. The two pictures are taken at the same time so the person shows his two faces.
The project started in Flanders, region of Belgium where over a thousand people commit suicide per year, that's about three per day on a number of 6,5 million people... 1 in 4 people will sooner or later deal with less or more serious psychological problems. Over the period of a year, approximately 700 000 people suffer from a mental health problem. The numbers are hard. One of the worst regions in the world.
But let us not focus on one region. Let us extend this project and make it a global goal to lower suicide rates! That is the goal of this website, the goal of this project and the goal of all who supports us!
Through this project we want to make people aware of the issues surrounding suicide and mental health problems. It is a unique way to put the spotlight on that matter. Through the portraits, we want to make people aware of the need for communication. Moreover, it is an attempt to make people aware of the opportunities we do to prevent suicide.
The impetus to include well-known people in this project is twofold. On the one hand we are convinced that media figures can reach more people. When people see that someone they look up to supports the project, it is likely that we appeal to more people. John Doe might think an actor, singer or other artist doesn't care about this, and we want to prove them wrong.
Secondly, it is a given that everyone knows someone in the public sphere who has come into contact with suicide or committed suicide. By engaging people from all facets of the media in this project, we give them a visual medium to work on with this and help them to address this problem.
All together for one goal: less suicides, more quality of life!